Temporary Communities explores ideas of rhythm and communality. It features video, sound, sculptural and textile work by artists Abbas Zahedi, Phoebe Davies, Joe Namy and Sonya Dyer.
'Sometimes people start to sing the same song, and to dance the same dance' - Franco Bifo Berardi
The instinct to move to music or to react to rhythm in different ways is universal among humans.
It has always been this way - like some kind of atavistic impulse, a visceral urge, an ancient collective habit.
Manifesting itself and affecting us through time and movement while filling our space, rhythm itself is by nature constituted by an interrelationship between a single beat and one or more beats.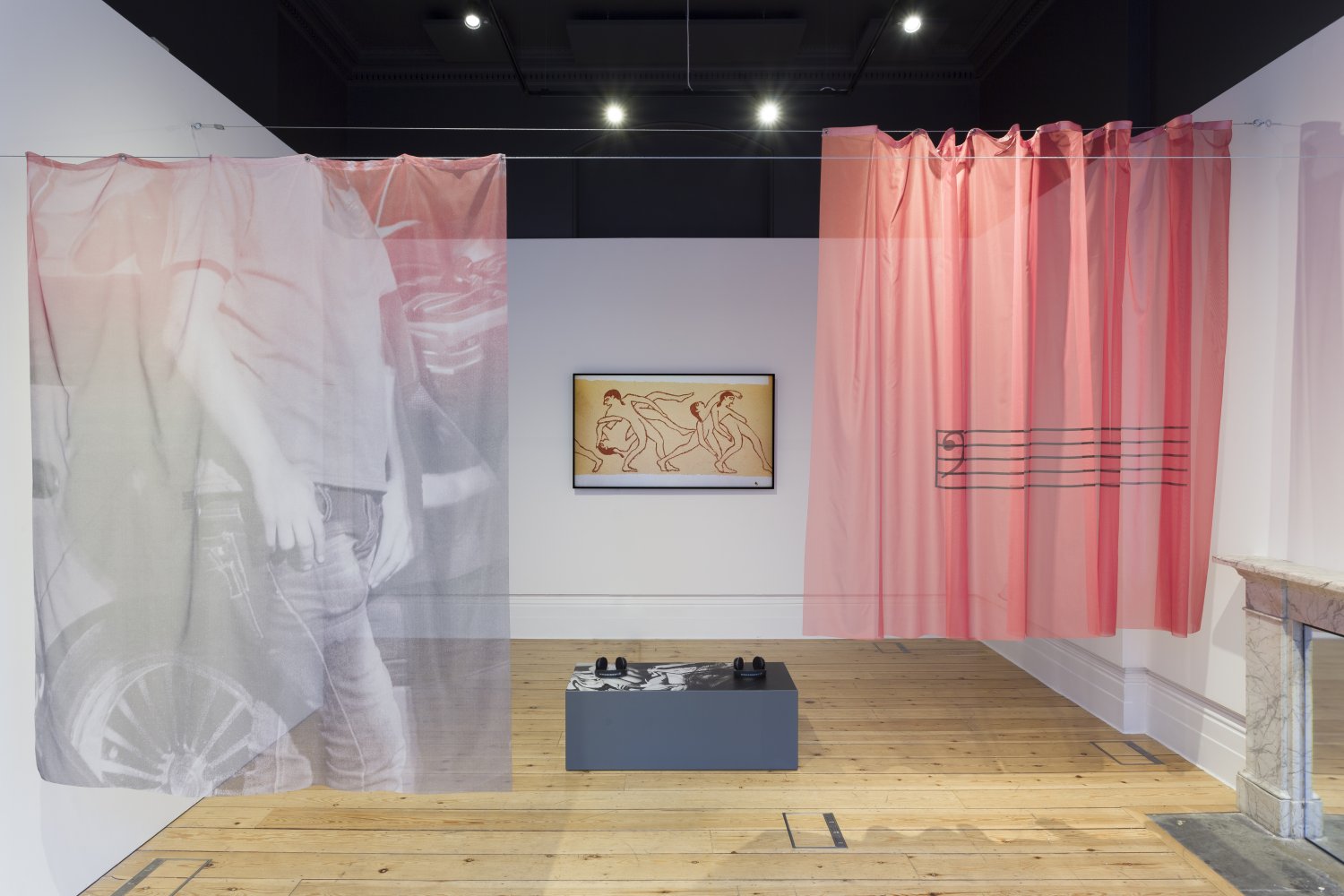 Temporary Compositions, Install shot. Photo: Tim Bowditch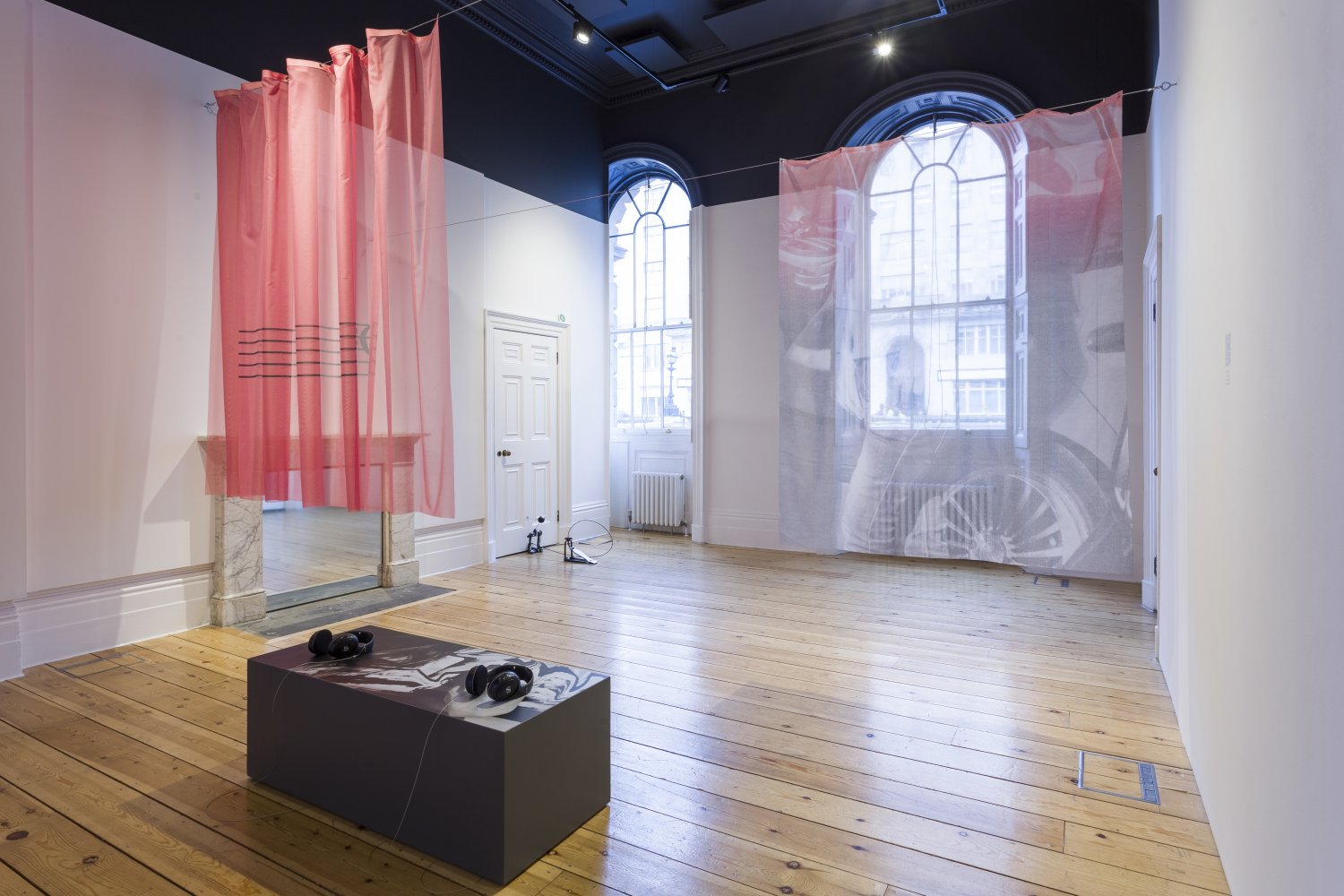 Temporary Compositions, Install shot. Photo: Tim Bowditch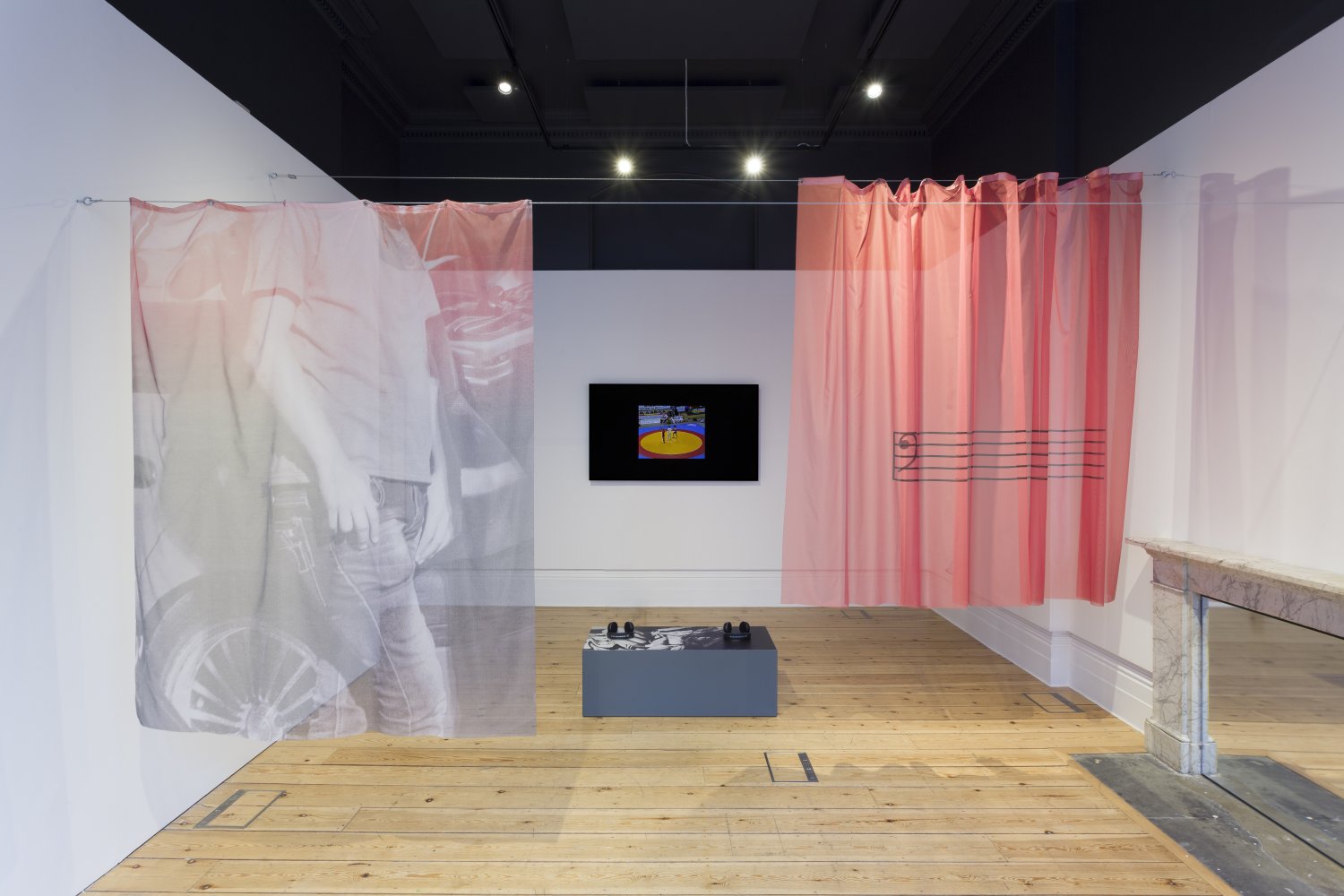 Temporary Compositions, Install shot. Photo: Tim Bowditch
The exhibition is inspired by the capacity of rhythm to generate this process of combination and communality, within and outside itself; to convene temporary communities, organically and inexplicably; to spark and create momentary connections, movements, cultures and subcultures.
The works within Temporary Communities involve a type of interrelationship between the single and the collective - or, in other words, one beat and the others.
Exploring this interrelationship, they reflect on different, more complex, powerful approaches to being and being together.
What new connections, meanings and modalities can be created or developed within collective settings, through collective experiences and collaborative processes?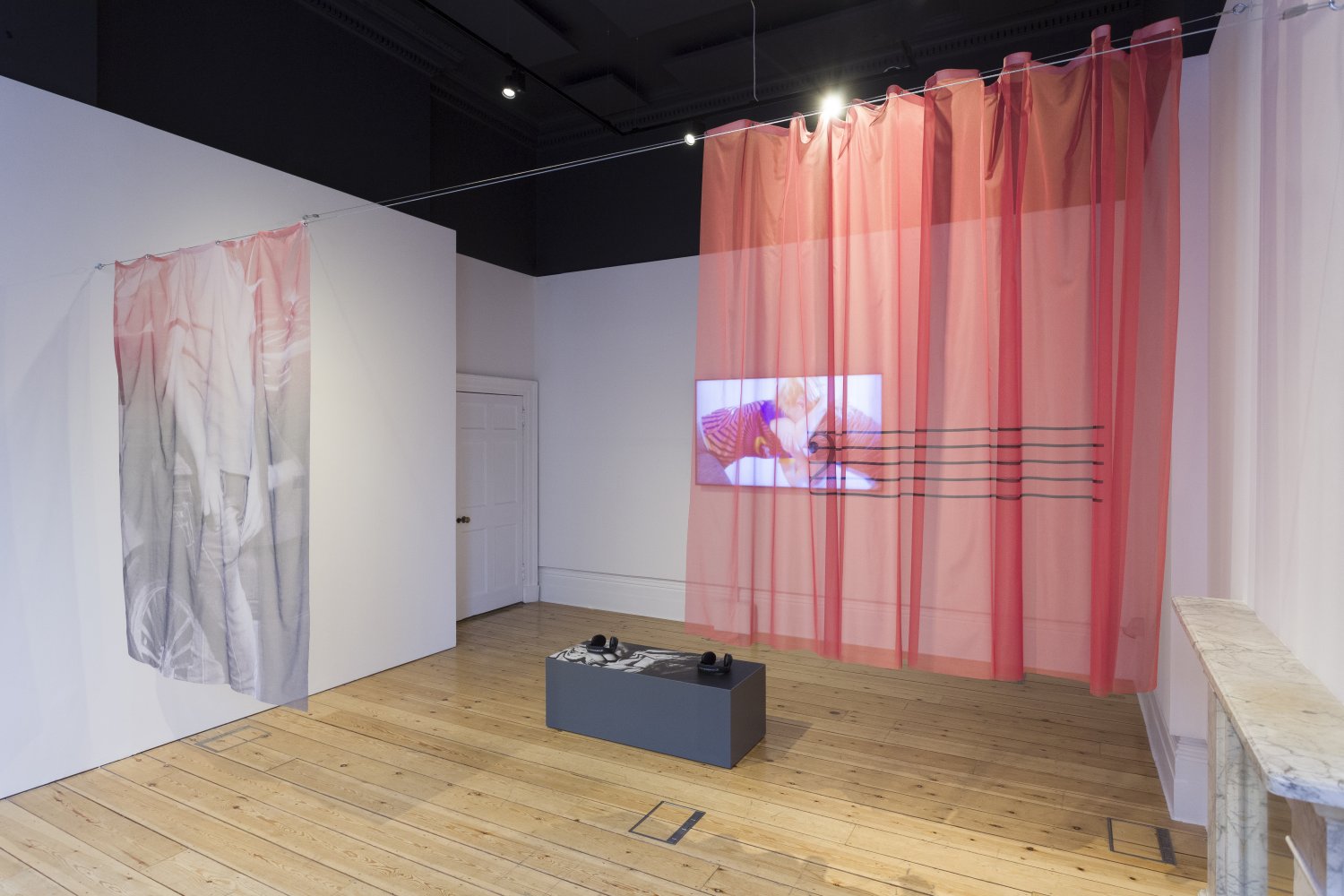 Temporary Compositions, Install shot, with The Sprawl, Phoebe Davies, and Automobile, Joe Namy. Photo: Tim Bowditch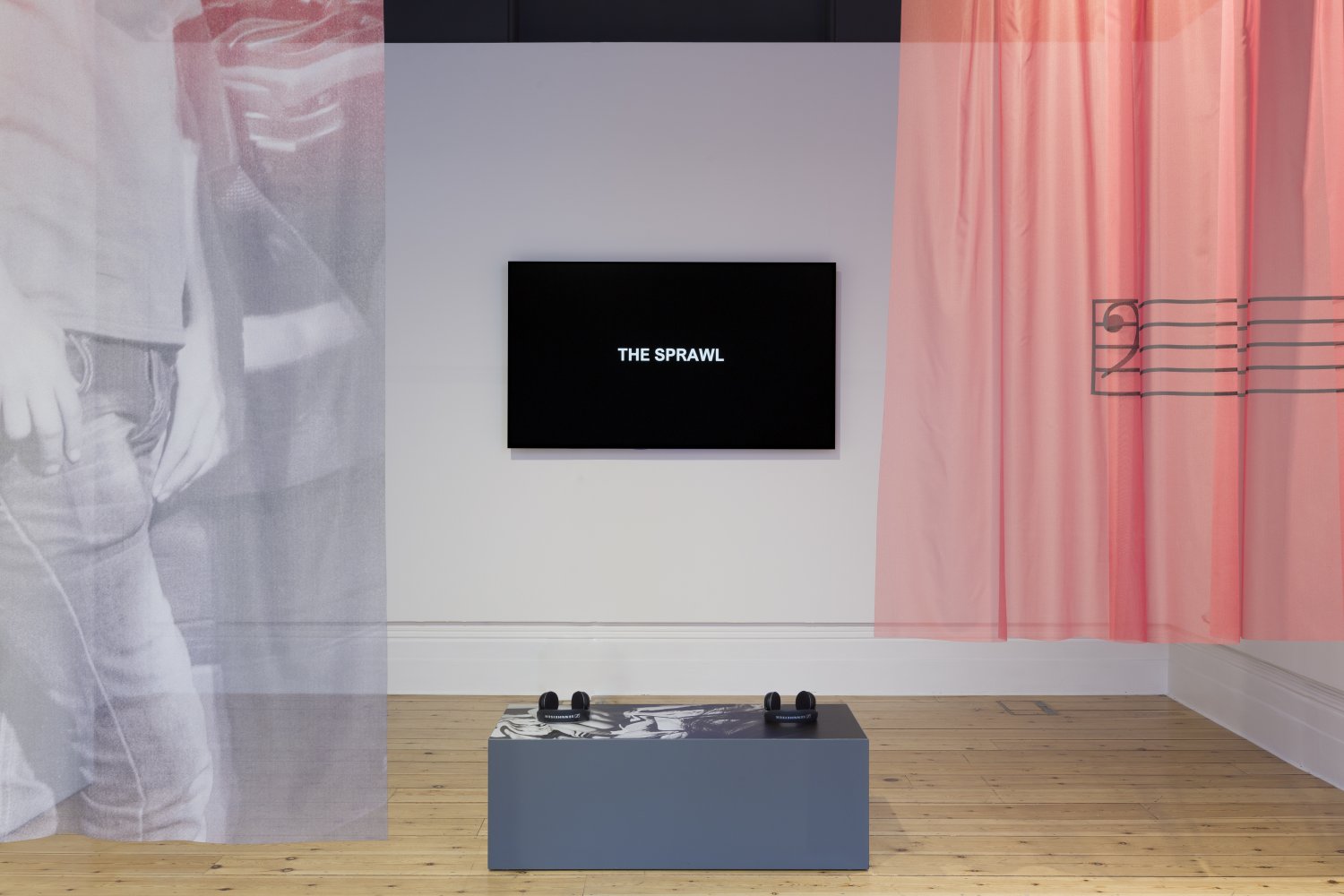 Temporary Compositions, Install shot, with The Sprawl, Phoebe Davies, and Automobile, Joe Namy. Photo: Tim Bowditch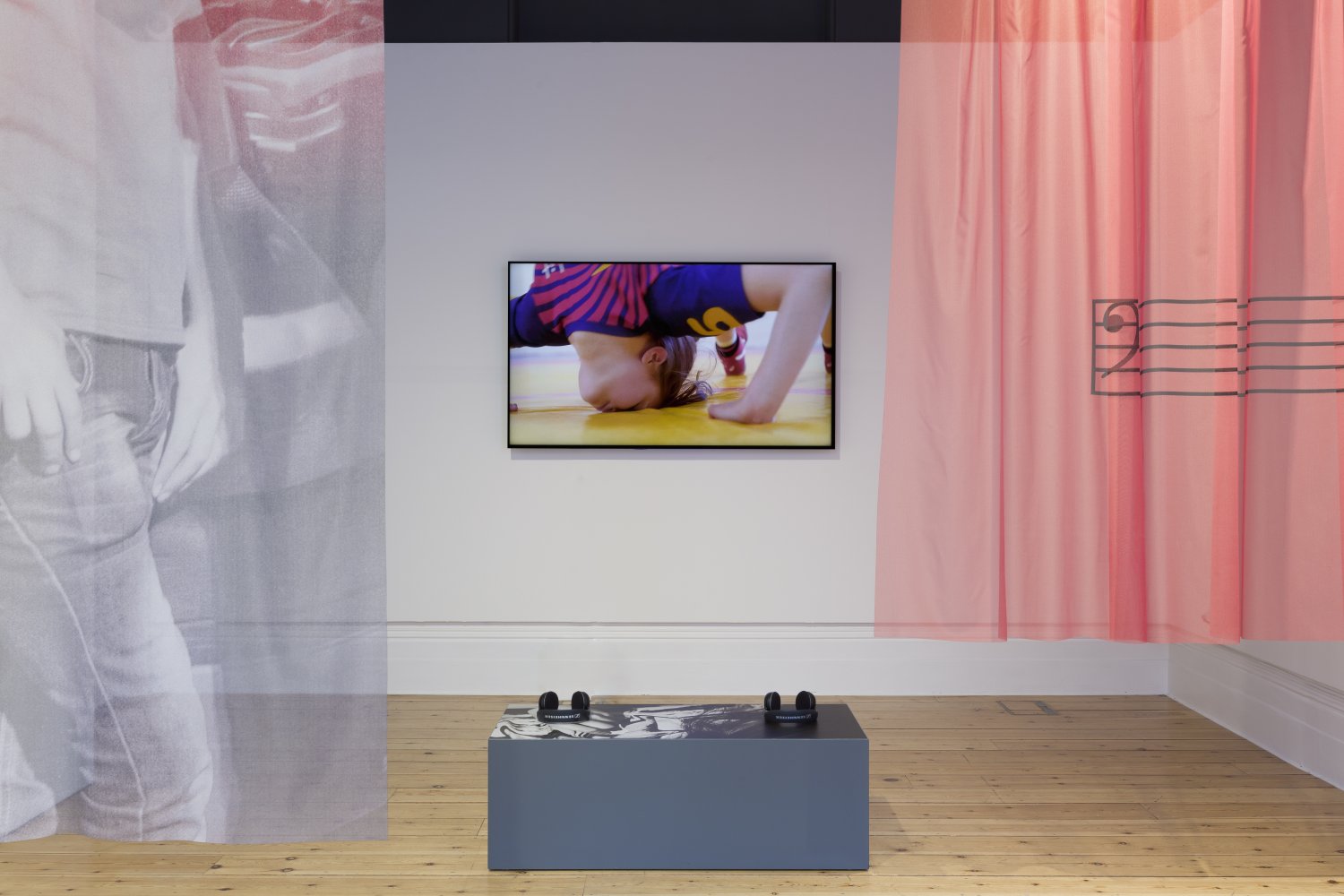 Temporary Compositions, Install shot, with The Sprawl, Phoebe Davies, and Automobile, Joe Namy. Photo: Tim Bowditch
Artist, educator, and composer Joe Namy's ongoing, international performance project Automobile manifests in the form of printed voile curtains, an installation piece reshaping the gallery space, alongside a sound work comprising of audio documentation of the project. A direct reference to sound system cultures and to the past Automobile iterations which included super-charged car sound systems to create an immersive, synchronised, surround sound environment, the work looks at the social constructs of music, passion and escapism.
Joe Namy, Automobile. Photo: Tim Bowditch
Artist Phoebe Davies's film The Sprawl, explores the physicality of occupying communal and competitive spaces. Following a small wrestling club on the outskirts of Oslo, Norway, and their team of young female wrestlers, it documents day-to-day routines at the club, team interactions, and their training, sparring and recovery from injury. We are witnesses to the wrestlers being encouraged to struggle against each other, testing their mental and physical resilience, while moving between moments of tenderness, strength and aggression.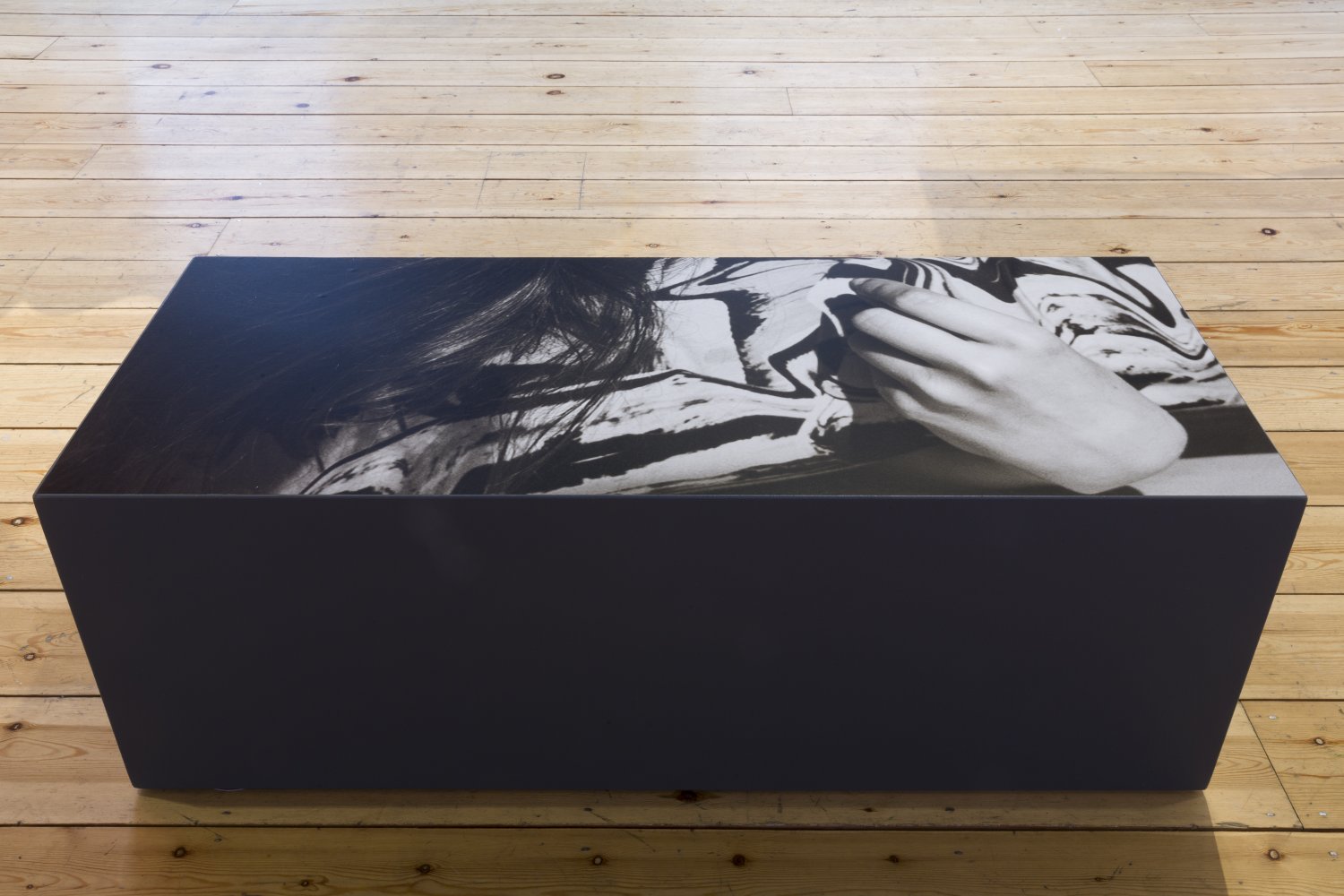 Phoebe Davies, The Sprawl. Photo: Tim Bowditch
Abbas Zahedi has developed a new commission during his three-month residency at Somerset House Studios, building on his recent work sampling meditation apps. Here, work through sound, performative remnants, and site-specific intervention, ritualistic rhythms provide an undercurrent that re-enliven mediated transcendence. Instead of a pure sonic encounter, Zahedi's Door WC2R tunes the space of Gallery 31, enabling an improvised tempo, or rather, a de-choreographed palpitation.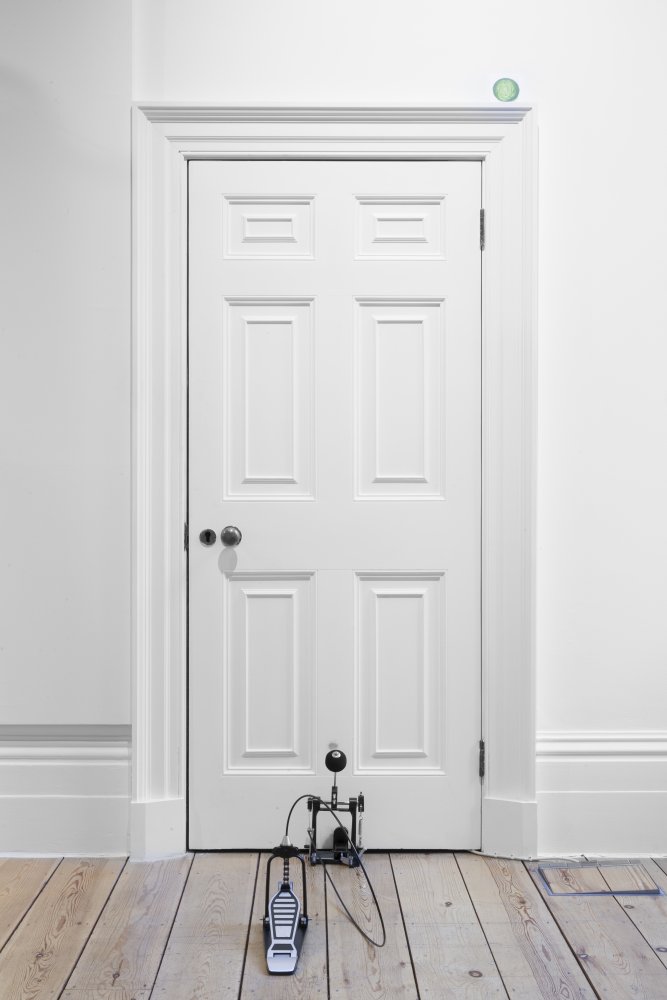 Abbas Zahedi, Door WC2R. Photo: Tim Bowditch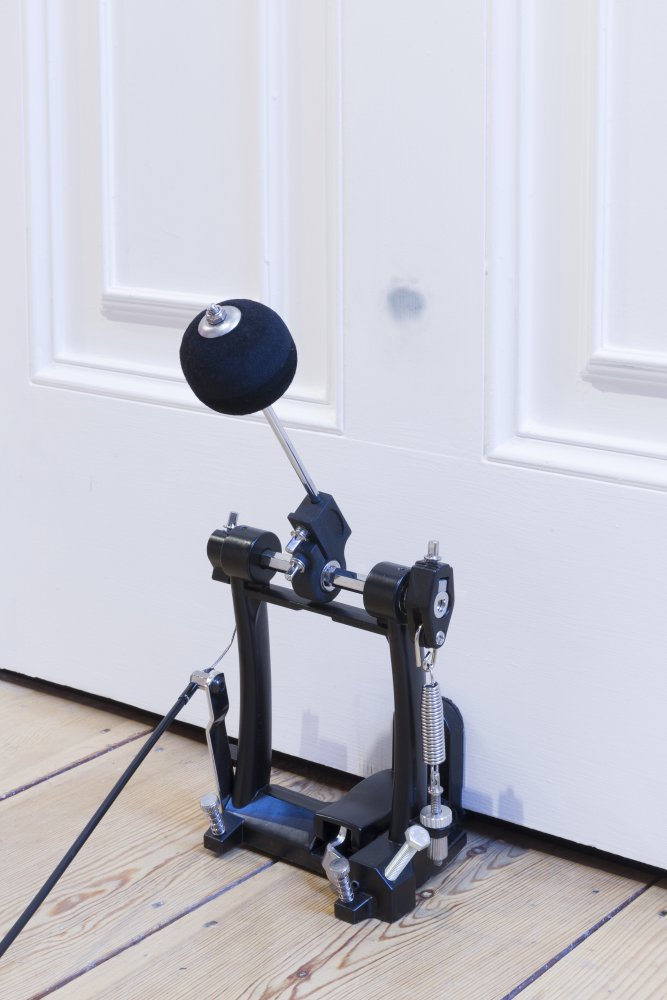 Abbas Zahedi, Door WC2R. Photo: Tim Bowditch
Artist and writer Sonya Dyer's videos - based on conversations with scientists - form part of her ongoing project Hailing Frequencies Open, which intersects the Greek myth of Andromeda, the dubious legacy of HeLa cells and actor Nichelle Nicols' pioneering work in diversifying the NASA astronaut pool in the 1970s as the starting point for an exploration of Black female subjectivities within narratives of the future.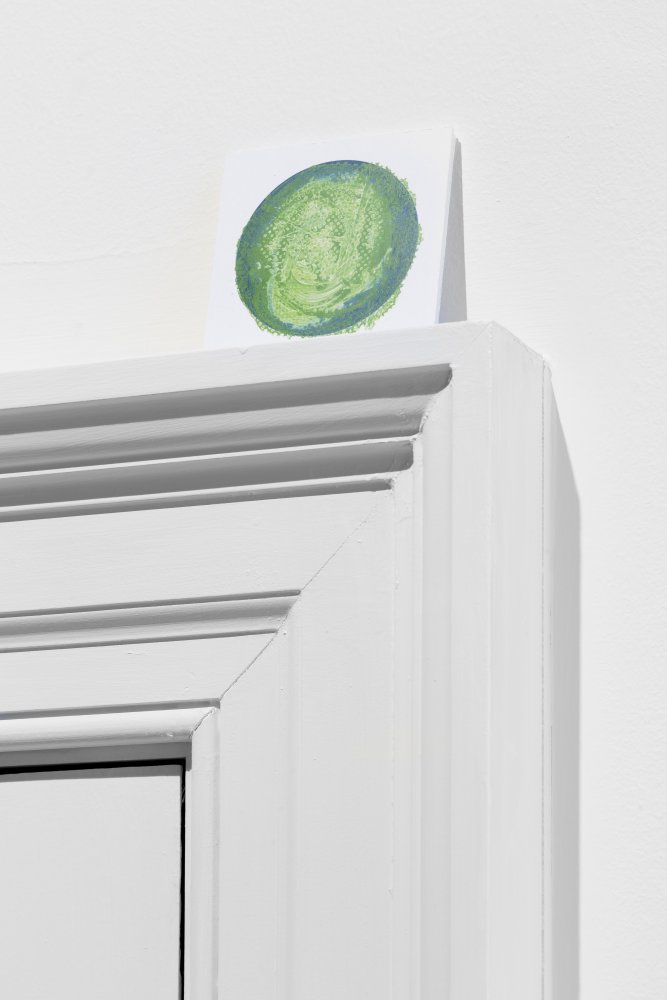 Abbas Zahedi, Door WC2R. Photo: Tim Bowditch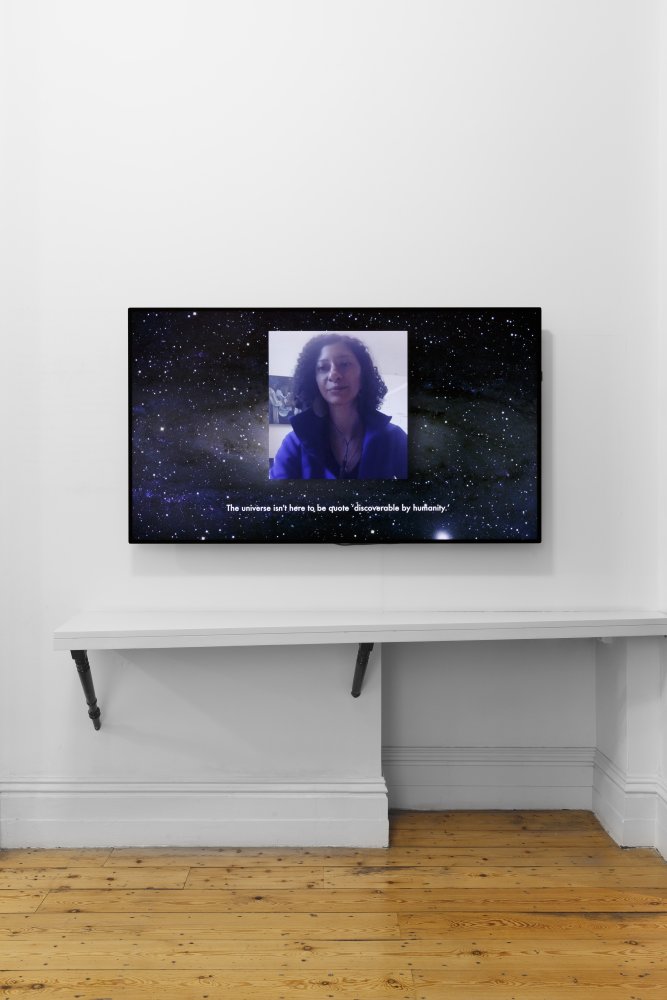 Sonya Dyer, Hailing Frequencies Open. Photo: Tim Bowditch
ABBAS ZAHEDI's interdisciplinary practice blends contemporary philosophy, poetics, and social dynamics with sound, sculpture, and other performative media. With an emphasis on how personal and collective histories interweave, Zahedi makes connections whenever possible with those around, in proximity to, or involved with the particular situations upon which he focuses. Recent solo shows include: 11 & 1, Belmacz, London 2021; Ouranophobia SW3, Chelsea Sorting Office, 2020; How To Make A How From A Why?, Fire Station, South London Gallery, 2020. Selected group shows include: Temporary Compositions, Gallery 31, Somerset House, 2021-2022; SUPASTORE SOUTHSIDE, SLINGBACKS & SUNSHINE, SLG, 2021; D·E·VALUATION, Mécènes du Sud Montpellier-Sète, France, 2021; Governmental Fires, (cur. Cédric Fauq), FUTURA, Prague, 2021; In Hindsight…, Bladr, Copenhagen, 2020; B, Belmacz, London, 2019; Degree Show, Central Saint Martins, London, 2019
PHOEBE DAVIES is a Welsh artist and researcher. Her practice investigates how people perceive their social framework, often working with and in response to individuals and communities, generating work through collaboration, collective action and DIT strategies. Davies often finds herself referencing and exploring collaborative models of working across different social and cultural sectors, be that methods of organic farming, feminist organising or speculative fiction. Recent projects have led her to work with sex educators, secondary school students, elderly residents in care homes, sports teams and DJs as well as art spaces and institutions, including Festival of Voice, Chapter Arts Centre (Cardiff), Tate Britain and Tate Modern (London), Whitechapel Gallery (London), Arnolfini (Bristol), Eastside Projects (Birmingham), Wysing Arts Centre (Cambridge), Steirischer Herbst (Graz, AUT), The Wellcome Collection (London), Praksis (Oslo, Norway), Portland Institute of Contemporary Art (Portland, USA). SA-UK SEASONS (Johannesburg, ZA). She is also a recipient of the British Council Social Practice Fellowship Award, Inaugural Jerwood New Work Fund, and PICA's Creative Exchange Lab Residency.
JOE NAMY is an American-born, London and Beirut-based artist, educator, and composer, often working collaboratively across mediums—in sound, performance, sculpture, and video. Their projects focus on social constructs of music and organized sound, like the pageantry and politics of opera, gender dynamics of bass, colors and tones of militarization, migration patterns of instruments, and the complexities of translation in all this—from language to language, from score to sound, from drum to dance. Solo shows include: Temporary Compositions, Gallery 31, Somerset House, 2021-2022; The Curtain of the Sky, Boras Biennial, Boras SE - curated by Ulrika Flink and Amanprit Sanduh; Here History Began, Savvy Contemporary, Berlin DE - curated by Bonaventure Ndikung and Kamila Metwaly (all 2021); Nuove Utopie, Fondazione Adolfo Pini, Milan IT - curated by Itamar Gov; Re-shift, Re-calibrate, Pavillion, Leeds UK - Curated by Myriam Mouflih; Rooftop Disguised as Dancefloor, Le18 + 1-54 Forum, Marrakech MO - curated by Elvira Dyangani Ose; Half Blue, Berlinale Forum Expanded exhibition, Berlin DE; Libretto-o-o d'artifice , Video Jam, Royal Northern College of Music, Manchester UK (all 2020); Automobile Redux, V&A Museum, London UK - programmed by Jenna Mason, P ;'32: The Rescore, Sharjah Art Foundation, AE - curated by Bhavisha Pancia; Half Blue, HISTORY IS NOT HERE, Minneapolis Museum of American Art, US - curated by Maymanah Farhat and Heba Y. Amin (all 2019)
SONYA DYER is an artist and writer from London. Dyer's practice reimagines where the centre is located in fictional narratives of the future. She explores how subjectivities and alliances are formed across cultures and temporalities, creating radical futures through unexpected connections. Recent projects include Art Night London (2021), 13 Ways of Looking, Herbert Gallery and Museums (2020), Rewriting The Future, Site Gallery (2019).